Tired of mediocrity and disengagement in your workplace?

U

nlock

Curi

ous

leadership with us

and say hello to a workplace that's bursting with growth and learning.
Get inspired by our engaging keynotes and masterclasses and make a lasting change with our custom programs and1:1 coaching.
​
We are on a mission to create lasting behavior for a culture of continuous learning and growth. We'll boost your organization's performance by reigniting the power of curiosity. Get curious with us now!
Tired of a workplace that lacks inspiration and motivation?
Unlock

Curi

ous

leadership

with us
...and say goodbye to disengagement, low well-being, and mediocrity. We'll boost your organization's performance by igniting the power of curiosity. Here's how we do it:
1. Engaging keynotes and masterclasses to inspire a curious mindset.
​
2. Customized programs and 1:1 coaching to put curiosity into action, unlocking lasting curious behavior and leadership for a culture of learning and growth.
​
3. Want to inspire the next generation? Check out our university options
​
Don't settle for mediocre—get curious with us now!
​
oster lasting curious behavior that ignites resilience, creativity, a growth mindset, and empathy. Elevate the performance of your employees by unleashing the power of lifelong learning and help them to think fresh and lead differentlyReady to shake things up? Get curious with Us now and embrace the power of curious Leadership!
Ready to light the fuse and ignite growth?
We inspire, train and consult curious leadership.
Get to know the power of curiosity and it's benefits during engaging keynotes and masterclasses to inspire a curious mindset.
Inspir

e

cu

riosity in your organization
Book a keynote with
Curiosity expert Anna

Willems
​
Get to know the power of curiosity with Anna Willems, one of the world's foremost experts in the field. Anna's dynamic and interactive talks and masterclasses inspire lifelong learning, a strong mindset and boost creative thinking and innovation, Her expertise, energy and passion create a truly unforgettable experience that will transform your (online) event. Book Anna now to start your organization's journey towards inspired curiosity!
Activate and unlock curiosity in yourself or team
Trainings & workshops
(on- & offline)
​
Thousands of participants followed our talks, programs or trainings and invested in growing their CQ (Curiosity Quotient).

We train the skills necessary to be fully curious. From the growth mindset to the power of mistakes and self-curiosity. Next to that we offer training programs to help your organization build a curious culture. Curious? Good. Get in touch!
Build a culture of curiosity, elevate your leadership style
Coaching & consultancy
​
Are you ready to shift your focus and lead with empathy and wonder? Are you determined to thrive no matter the weather, timing or circumstance? Are you maybe even ready to shift your company culture? Cool let's talk.
"A vital message about the future of work. The (online) keynotes are more than good storytelling. They are an experience that invite you to act, rethink and break routines."
Julia Damberg | communication expert | Dutch National Opera & Ballet.
These clients boosted their curiosity with us, we love to help you too
We inspire, train and consult. Ready to light the fuse and ignite growth?
Our online trainings
for lifelong learners
We train the skills that are necessary to become
a lifelong learner and unlock curiosity.

These sessions last an average of 2.5 to 3 hours. Always online with a lot of interaction and personal guidance. Learning by experiencing that is our specialty.
"Want to walk out of an online keynote more energetic than going in? It's possible with Anna from The Curious School.
During the keynote 'Train Your CQ', we were impressed by the theory behind the Curiosity Quotient, and the concrete advice & tips for using curiosity in the workplace (both online and offline). In just a short time, we were convinced and made all the more curious about The Curious School. Highly recommended this webinar to start with!"
Emma de Jong
Position: Community Manager
Organization: Scaleup Company
"We really enjoyed Anna as a speaker. Her enthusiasm and creative energizers kept us constantly captivated and focused.
The power of curiosity was a valuable addition to the day. It was exactly what fueled our creativity to come up with clever projects. Anna, thank you!"
​
Hannah Markusse
Position: Student Coordinator
Organization: Radboud University
TRAIN & CULTIVATE CURIOSITY
Custom made Curious leadership programs
​
Discover the power of cultivating curiosity and transform yourself as a leader. Time to ignite lasting curious behavior, drive innovation and build stronger, more resilient teams. Get in touch with us today and start to lead with wonder.
Coming soon: Online course + mastermind building a culture of curiosity
Designed for HR/L&D professionals, CEOs, founders, managers, and culture builders who want to create a culture of curiosity and innovation within their organization. With live coaching and community support, participants will learn practical skills and strategies to implement real change in their workplace.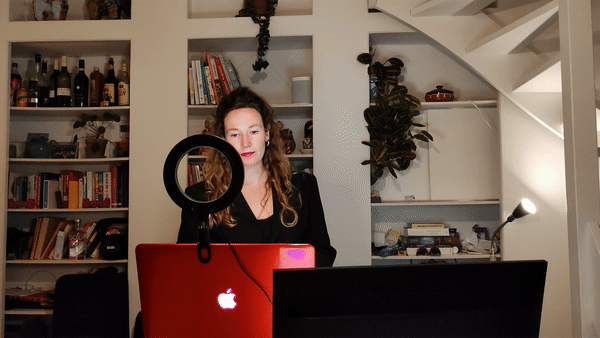 Curiosity in your inbox?
Subscribe for a letter full of wonder, questions, braveness and fresh perspectives.
Curious coaching consult​
We will guide you on a journey of self-discovery and help you cultivate the skills you need to approach challenges with an open mind and a sense of wonder. Get in touch today and discover how our curious mentoring can transform your personal and professional life.